What if you could help your business partners do their jobs better?
What if you could achieve that in your first 30 days on the job?
You'd be hailed as a hero, right?
We have worked for over 15 companies over 40 years combined in our careers, which means we've been the "new guys" 15 times over.
That's a lot of practice!
Each time, we started a new job hitting the ground running. 👟
In today's post, you'll learn:
How we made a material impact on the business as quickly as possible
How we helped our teams perform at higher levels
How we leveraged all of this to get promoted faster
The best part about all of this is you can achieve the same using our game plan.
Let's dive in.
Meet 30 people in 30 days challenge
Getting to know how your business operates, how it makes money, and the departments involved, are critical.
What better way to learn this than from the people doing the actual work? You also get the added bonus of building out your network.
The "Meet 30 people in 30 days" challenge will require you to step away from the spreadsheets and dive head-first into the day-to-day operations of your business.
The people you meet should span every major department including:
Sales
Marketing
Customer Support/Success
Corporate Development
Legal
Accounting
HR/People Resources
IT
Engineering
Finance
Rev Ops
And others, depending on your company
You'll also want to meet with various levels within each department.
Try to focus on one analyst, one manager, and one VP to give context across the doers, people managers, and strategic thinkers.
Here's a simple framework below you can leverage: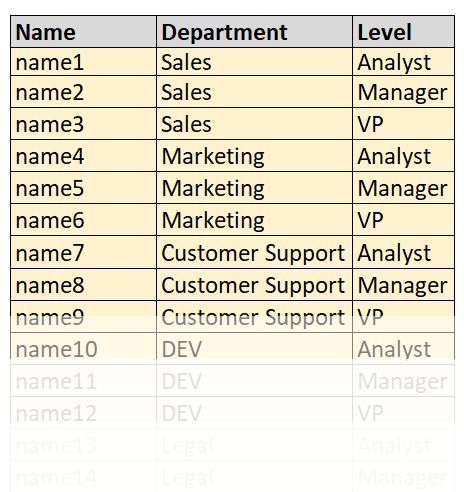 When meeting each person, identify the BIGGEST problem they're trying to solve. How can you help them with this and reduce their headaches?
Swinging for the fences is strongly encouraged to get a fast start. ⚡
Sometimes that problem will be directly related to FP&A. That's a good thing because it's in your wheelhouse.
Try to figure out how your unique FP&A skillset can help make their lives easier by helping to solve this problem with a quick win and a longer-term solution.
Why?
Because helping people in your organization will generate more revenue, save on expenses, and ultimately, lead to you building up your own name-brand equity within the company.
Want to get promoted faster? This is how.
Proactively meeting with people also shows your willingness to help. If you wait for people to come to you, you lose that first-mover advantage.
Now let's get back into that comfortable spreadsheet to help you start your new gig on the right foot.
Dive into the P&L at the transactional level
Where does your company make its money? Which products? Regions? Segments?
Where does your company spend most of its money?
Headcount and marketing spending are typically the two biggest.
But to know for certain, you need to dive into the Profit and Loss (P&L) statement.
To do this, grab the P&L from the last reported period and get the transactional level details that support it.
You'll learn A TON from this exercise because you'll understand what drives the numbers.
Next, is the data easily available?
If not, there's one big opportunity for you to tackle early in your new role. Create a new report that everyone can use to research transactional-level details.
Here's a simple framework shown below:

Pull up an invoice that supports an asset being depreciated.
What is your company buying? From who (vendor)? What product does it support?
Now review marketing invoices.
What are they spending money on? Is there a purchase order (PO) process attached to that spend? If not, there's another BIG opportunity for you to create a PO process linked to marketing spend approval. Here's more information on partnering with marketing here.
How about headcount?
How many active employees does your company have today? How many new hires came on board last month? How many terminations were there? If this information isn't readily available, well you get the idea.
That's another opportunity area for you to jump on. Learn more about headcount management here.
Make notes for every department and account to understand the drivers, dollar amounts, and owners.
Now let's bring what you learned back to your boss and set some goals that will far exceed their expectations. 💪
Set clear goals and expectations with your boss
You now know what pain points people in your organization have.
You also know where the most money is being spent and whether or not that spending is under control.
Identify two types of goals that you can tackle:
Quick wins you can tackle in 60 days
Long-term wins you can tackle with a larger group effort in 180 days
Here's a simple framework you can steal below:

For example, let's help our Sales business partners.
Let's say a Sales Rep has issues submitting proposals to finance. They keep getting rejected because of low deal profitability but have no context on how to make the deal better.
The quick-win solution would be to build a cost-to-serve (CTS) model in excel and have explanations ready to go for every deal that is rejected by finance. Here's more info on how to build a CTS model here.
The long-term solution would be to build CTS calculations into your CRM tool, which articulates how to change the deal to improve profitability and get it approved by finance.
Executing these quick wins will get you credibility and a confidence boost. Momentum is key in any new company.
This will be fuel for the long-term goal fire.
Let's bring this topic home new hire quick learning superstar. 💪
Conclusion: Stay focused, earn trust, and achieve success
Go seize your opportunity to learn a new business, learn from new people, and properly set expectations that will make you and your team look like rock stars.
Your team will thank you.
Your business partners will thank you.
Your boss will thank you.
What do you think happens when you help so many people look good?
It rhymes with KOMOTION and begins with P.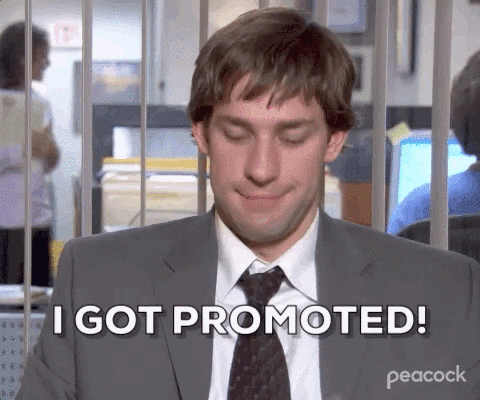 How do you feel now? Excited?
Let us know by replying here or emailing us.
Now go have fun making an impact on your business and your career!
Cheers,
Drew & Yarty
PS: This post is 100% human-made