What if you could help your business partners drive better company results using one presentation?
What if that presentation you gave was so effective that your Chief Financial Officer (CFO) and Chief Human Resource Officer (CHRO) required every people manager and new hire to attend?
You'd be considered one heck of a presenter, right?
Maybe even line you up for a nice, little bonus.
In today's post, you'll learn:
Why effective presentation is important
How to hook your audience
How to gain your audience's trust
Closing strong
The best part about this all is it's easy to learn and implement.
Let's dive in.
Why it's important
Presenting information is one of the most important skills for your FP&A career.
You'll be expected to present data to business partners and stakeholders to make sense of it all.
If done right, they will love you.
You'd also be THE sought-after financial mind to help your colleagues achieve their goals.
That's exactly what we did at our prior companies.
We developed a "finance for non-finance" presentation packet and physically gave the training to over 500 people across 3 continents over a two-year period.
We helped a lot of people accomplish their team goals and make sense of data, all of which fueled company valuation growth.
We also got promoted along the way. 💪
Here are the steps to take below.
Hook your audience
Imagine a scenario where you walk into a room full of non-finance managers and new hires.
They will have ONE thing on their mind.
Why the heck should I spend my time listening to this FP&A person?
You have 30 seconds to make your audience care or lose them forever to phone emails.
Here's how we made our audience care using three sentences:
Our company's valuation is UP 3X since IPO 3 years ago
We have plans to increase our valuation ANOTHER 3X three years from now
YOU can help our company hit this goal
These statements connected our presentation to our audiences' individual goals, team goals, and personal wallets.
Everyone wants to see their company grow.
Growth = Fun 🎉
Growth = Opportunities 📈
Growth = Bonuses and Promotions 💰
Your audience is now hooked. They want to learn more.
So let's give them what they want.
Gain their trust
It's nice to rally around a common goal.
It's way better to rally around a common goal with someone that knows their stuff.
Why should your audience listen to you on this topic?
You have another 30 seconds to gain their trust.
Don't lose them to phone emails.
We established credibility with our audience using our prior experiences:
We were on the IPO readiness team 4 years ago
We helped establish and execute the 3-year plan to grow our valuation 3X
Our CFO asked us to be here to share this important message
Now our audience knows we're not just reading from a script.
We're speaking from actual experience on the subject matter being covered.
And we have an executive sponsor backing us up.
Now let's get tactical with a clear goal for this presentation.
Define the purpose
It's all about the "what" and the "why"?
What are we going to achieve in this session?
Why is it important to achieve it?
Here's the purpose statement we made:
The purpose of this meeting is to connect our company's valuation growth target of 3X to your teams' everyday business activities and generate action plans to achieve this growth
Any questions?
Now let's get to work and make this shine.
Highlight key points
Keep it to 3 (T-H-R-E-E) and only three points.
When things are presented in threes, they are more satisfying, more effective, and more memorable to the audience. Learn more here.
Here are the three points we highlighted:
Revenue
Gross margin
Free cash flow
Each of these metrics can be influenced by EVERY department in the company.
Our company had very specific key performance indicators (KPIs) that supported these three metrics.
And the supporting KPIs we had were publicly disclosed, so everyone could see them in our press releases every quarter.
Having a financial scoreboard everyone can view is important.
It's like being able to flick on the TV to see if your team is winning.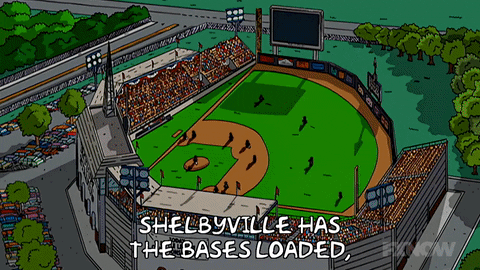 Now let's help everyone influence the score using their unique teams and skills.
Provide succinct and relevant details that support the main points
Details DO NOT mean word walls and charts with dozens of data points.
You've worked so hard to get the audience's attention, gain their trust, and make them want more.
Don't lose them to phone emails now!
Here are some rules to follow to ensure slide details are succinct:
Each page should have 6 bullets or fewer
Each bullet should have 8 words or less
Each page should have no more than 1 chart
Each chart should contain only 1 trend
Your presentation should also be relevant to your audience.
If you're presenting to Asia, make the details about the Asia business unit.
If you're presenting to the marketing team, focus on marketing-related activities.
If you're presenting to a room of new hires, keep the details high-level and cover every department.
Here are some examples to present to new hires:
Revenue — sales close more deals, leading to increased revenues
Gross margin — reduce cost of goods sold, leading to increase profitability
Free cash flow — marketing manages cash with quarterly spend management
Each detail provided is the starting point of an explanation and further discussion.
Keep things simple, mix in some humor, and keep your audience actively engaged.
Ask your audience,
How can we better manage marketing spend to maximize cash flow while achieving our revenue goals?
A response we got to this very question was,
"Understand the customer lifetime value (CLTV) of your target customers and focus more spend on higher CLTV segments while cutting spend in lower CLTV segments".
And guess what we did with the person that asked this question?
We worked with them and optimized marketing spend by focusing on higher-value CLTV target customers. Learn more about CLTV in this post here.
The financial result?
We saved MILLIONS of marketing dollars, which increased free cash flow.
Close strong
You just covered a lot of material.
While keeping a room full of non-finance people engaged in financial discussion.
High five. ✋
Now it's time to summarize.
Make sure you mention the statements that hooked them in the first place
Reiterate from above:
Our company's valuation is UP 3X since IPO 3 years ago
We have plans to increase our valuation ANOTHER 3X 3 years from now
YOU can help our company hit this goal
Remind them of the original purpose
The purpose of this meeting is to connect our company's valuation growth target of 3X to your teams' everyday business activities and generate action plans to achieve this growth
Check off the main items that were covered
Revenue ✔️
Gross margin ✔️
Free cash flow ✔️
Request action from the group
A great call to action is creating a formal, written plan that outlines the actions teams will take to influence the company's financial scoreboard.
We used the final 10 minutes of each presentation as a working session for this very thing.
Leverage the SMART (Specific, Measurable, Attainable, Relevant, Time-bound) framework when creating these action items.
Our audience found this exercise so useful that many used these written plans in their quarterly and annual performance reviews with their teams.
Let's wrap this up
You now have the power to communicate powerful financial information to the masses.
Keep the messaging simple.
Keep the audience interested.
Keep the material relevant.
Use the power of storytelling when you can.
And above all else, have fun with it.
Your audience will feel your positive energy and send it right back to you in the form of participation.
Here's a visual you can reference when building your next financial presentation.
---
How do you feel now? Ready to become a presentation rockstar?
Let us know by replying here or emailing us. If there are specific topics you'd like us to cover as well, let us know.
Happy Holidays and Happy New Year! Now go have fun making an impact on your business and your career!
Cheers,
Drew & Yarty
PS: This post is 100% human-made