Hey there,
Happy New Year!
We hope you spent some quality time with family and friends and took a relaxing vacation.
This year, we have many things planned to help boost your career further. Stay tuned for exciting updates coming very soon.
Now onto today's post on how to raise money by telling a great customer journey story
You will learn:
What is the customer journey and why it matters
What you need to analyze the customer journey
How to get customer data
How to create visuals that support a compelling customer journey
How to actively manage the customer journey in everyday business activities
Using this analysis will help your company raise money and get you promoted faster.
Let's dive in.
Why telling a great customer journey story matters
In every business, small or big, it's all about the customer.
Let's repeat: it's ALL about the customer.
The cycle goes:
Customer generates sales
Sales drive cash
Cash pays bills for future growth
Repeat #1
Now, what if you could help your company increase customer sales?
Your company would grow faster.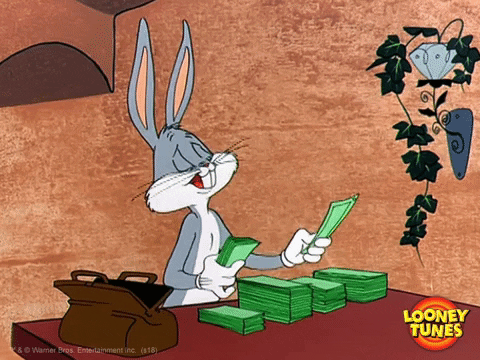 It would also be a great candidate to raise more money and speed up growth. 🚀
Access to more money also equals more opportunities for you and your teams to help your company grow faster.
Sound far-fetched?
We helped companies raise money through the IPO (initial public offering) and traditional bank loan process.
How did we do it?
By telling an amazing customer journey story that was supported by data and actively managed by the entire organization.
This helped our company grow sales.
This helped our fellow employees get paid their bonuses, which were tied to sales growth targets.
This helped our company grow its valuation and raise additional money.
We also got promoted as a result of all the fundraising.
Was all this complicated and hard to pull off?
Absolutely not.
The trick is to understand what a good customer journey looks like.
What is the customer journey?
The customer journey is the complete experience a customer goes through when interacting with your company.
Marketing and Sales work to acquire new customers.
Customer Success works to retain existing customers.
R&D works to provide additional products to upsell customers and enhance existing ones.
Acquire + Retain + Upsell = Sales Growth Winning Formula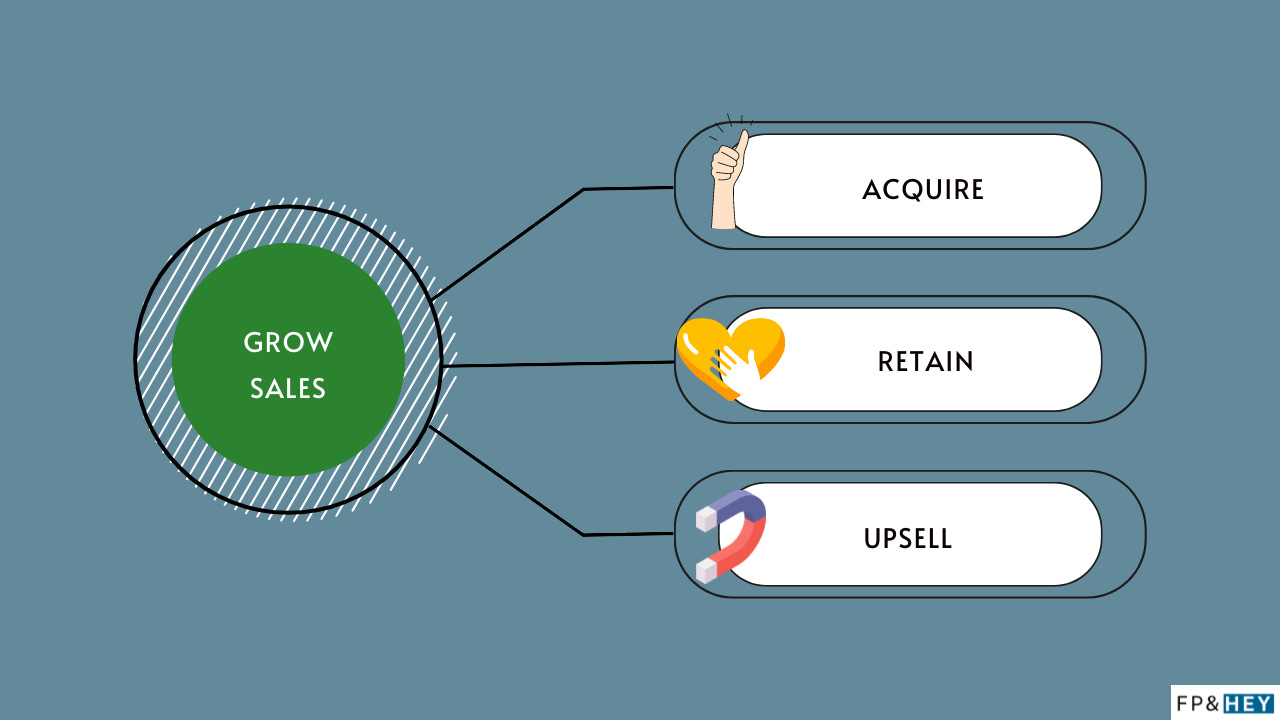 When sales grow, you and your fellow employees get paid your bonus and commissions.
Now, let's tell a great customer journey story together.
What you need to tell a good customer journey story
To get started, here is what you'll need:
Monthly revenue by customer
Acquisition dates for each customer
That's it!
The best recipes have the simplest ingredients.
Let's create an amazing analysis that will drive your company results to new heights.
How to retrieve customer data
Most customer data lives in revenue accounts, so let's start by pulling general ledger details.
Create a report that provides monthly revenue by customer ID.
For this analysis, let's assume your company offers subscription products and customers pay every month.
This could be applicable to a SaaS company or any subscription-based service company like streaming.
Each month a customer ID has revenue = an active customer in the month.
Let's go back and pull three years' worth of monthly revenue data with customer-level details or however far back your data set goes.
You might have something like this below: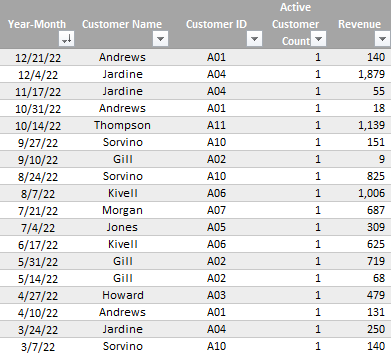 Now you can figure out which customers were active in prior years.
A customer that was active 12 months ago and is still active today is considered a retained customer.
💡Tip: Along with pulling revenue data you can also pull qualitative data such as:
Acquisition date
Industry
Sales Rep who closed the sale
Segmentation
Product
Customer insights (size of company rev, employee counts, etc.)
Sound familiar? This qualitative data is also useful when analyzing quarterly sales performance.
Now let's create some visuals that will maximize the check your next investor will write.
Create three visuals highlighting acquisition, retention, and upsell
With charts, it's all about keeping it SIMPLE.
When in doubt, KISS (keep it simple, st*pid)
One trend per chart = a clear message for your audience.
These charts can be created in excel or whatever software you choose.
Remember, it's all about the customer journey metrics and how awesome your business is.
Customer acquisition
This chart shows active customer counts are growing every month since January 2020.
A customer is a unique purchasing entity that pays your company for services provided.
If a customer records revenue in a given month, they would be considered 1 active customer in that month.
So in December 2022, we had 418 customers record revenue in the month, up from 145 customers in January 2020.
That's almost a 3X increase in customers in 3 years!
Does selling to more customers indicate an increased demand for your product?
Yes, it does. You want to see your company sell to more customers.
Here's the next question you'll get from potential investors:
Do customers keep buying your product over a long period of time?
Based on this info, we have no clue.
Customer count growth is fueled by selling to new customers AND retaining customers you already sold to.
Let's create another analysis that enhances our customer count growth story.
Customer retention
This chart shows monthly annual retention rates since January 2021.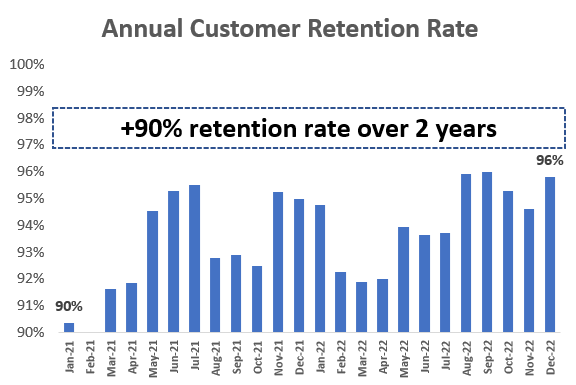 Annual customer retention rate is a measure of how many customers continue to do business with a company over a one-year period.
To calculate, take the list of customers that were active 12 months ago and determine how many of those customers were still active in the current month.
So if we had 261 active customers in December 2021, and of those customers 250 were still active in December 2022, then our annual retention rate is 96% (251 ➗ 261).
Our data tells us annual customer retention rate has been over 90% every month and trending higher in recent months.
Do banks and investors like companies that have repeat customers?
Heck yes, they do! It means they love the product and keep buying more of it.
It's also less expensive to acquire customers and keep them for a long time.
Let's ask the next logical question:
Do you customers spend more money with your company over time?
We don't know the answer yet.
Why is this important?
Customers spending more money over time is a great indicator of future cash flow growth.
Let's round out our customer growth and retention story with an additional customer spend analysis.
Customer upsell over time
This chart shows monthly revenue per customer since January 2020 split by customer acquisition cohort.
A customer acquisition cohort is a group of customers who have all been acquired within a specific time period.
In this example, we grouped customers by the calendar year they were acquired.
Customer acquisition cohorts are useful for analyzing the long-term value of customers.
In our example, our 2020 customer cohort started spending $1,000 per month in January 2020 and now spends almost $4,000 per month in December 2022.
Do investors and banks like companies that have customers that spend more money over time?
💯 Yes.
Not only does your 2020 customer cohort spend more over time, but the 2021 and 2022 cohorts are also showing the same growth over time too.
Now ask yourself this question:
Would you invest in a company that is growing customers, retains them, and gets them to spend more with them over time?
Conclusion: Your company raises more money, and you get a promotion
You just created more opportunities for your company and everyone that works there. 😉
Having access to cash, especially in today's environment, is critical to maintaining hiring plans and executing growth initiatives.
You can keep the fun train rolling by connecting your customer journey analysis to everyday business activities.
Help Sales close more deals to increase new customer counts
Enable Customer Support to focus on customers that raise lots of support cases and increase retention rates
Work with R&D to model new products that will be sold as add-ons and drive upsell opportunities
You'll be the go-to person to explain how the customer journey impacts everyone's daily job.
All of these relationships will build up your own personal brand.
This will get you noticed and promoted faster.
As your company grows keep the customer journey simple and the education coming.
And when presenting financial information keep it simple, interesting, and relevant to your non-financial audience. Here's more info on how to do that.
Acquire customers.
Retain customers.
Upsell customers.
A winning strategy for your company and your career. 💪
---
How do you feel now? Ready to tell an amazing customer journey story?
Let us know by replying here or emailing us.
Now go have fun making an impact on your business and your career!
Cheers,
Drew & Yarty
PS: This post is 100% human-made